Welcome to the 2022 Big Hospice Raffle! 
Please use the online order form below to purchase your tickets. Tickets are $10 each.
We will draw two winners a day throughout the month of May, and we do not remove winning tickets from the raffle, so each ticket entered offers you 62 chances to win!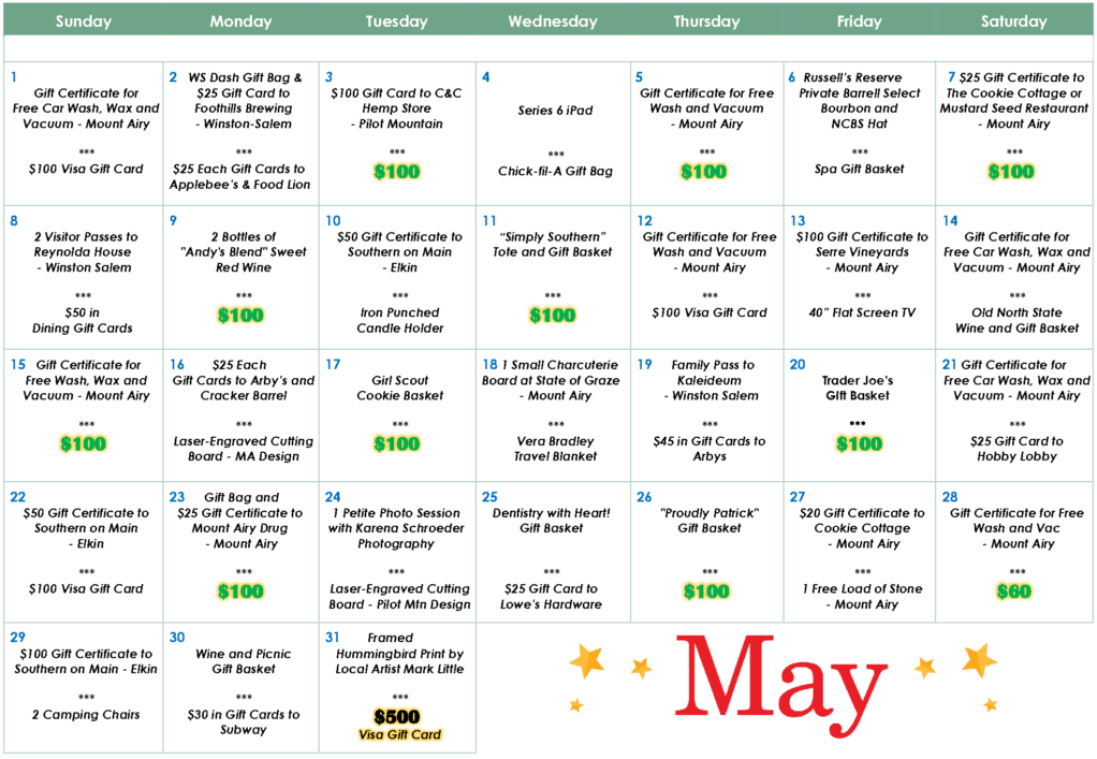 Prize winners will be announced daily on our Facebook page. We will also contact all winners to arrange for prize pickup at one of our office locations. Please note that in order to collect any prizes containing alcohol, winner must supply identification and proof of age.
Your participation in the Raffle supports our efforts to provide quality, compassionate care to patients and their families. All proceeds from the raffle will supplement funds for the provision of hospice and palliative care, as well as support community programs including We Honor Veterans, Pet Peace of Mind, Kids Path, and other grief counseling services.  For more information, contact our Development Department  336-789-2922.

Allegacy Federal Credit Union – Winston-Salem, NC
B&J Auto Sales – Mount Airy, NC
Bassett Funeral Service – Bassett, VA
Boyce-Holland Veterinary Services – Stuart, VA
C&C Hemp Farm – Pilot Mountain, NC
Chick-fil-A – Mount Airy, NC
Crouse's Auto Detailing – Mount Airy, NC
Edward Jones Investments – Surry County Financial Advisors
Girl Scouts of Surry County, Yadkin and Stokes – North Carolina
Foothills Brewing – Winston-Salem, NC
Hugh Chatham Memorial Hospital – Elkin, NC
Ireland Insurance – King, NC
Jim Longworth – Longworth Productions – Winston-Salem, NC
John L. Gravitte, D.D.S., P.A. – Mount Airy, NC
Kaleideum – Winston-Salem, NC
Karena Schroeder Photography – East Bend, NC
Landmark Center – Stuart, VA
Luck Stone – Mount Airy, NC
Magical Vacation Planner by Megan Quance – Mount Airy, NC
Miller Funeral Service – North Wilkesboro, NC
Moody's Funeral Services – Mount Airy, NC
Mount Airy Drug – Mount Airy, NC
Nirvana Therapeutic Massage – Kernersville, NC
North Carolina Bourbon Society – Mount Airy, NC
Northern Regional Hospital – Mount Airy, NC
Northside Group – Mount Airy, NC
Old North State Winery – Mount Airy, NC
Pam Cook Communications – Kernersville, NC
Progressive Image Salon – Winston-Salem, NC

Redline Cleaning Services – Surry County, NC
Reynolda House – Winston-Salem, NC
Serre Vineyards – Mount Airy, NC
Southern on Main – Elkin, NC
Spangler Restoration – Greensboro, NC
State of Graze – Mount Airy, NC
Talley's Frame Shop – Mount Airy, NC
The Cookie Cottage / The Mustard Seed – Mount Airy, NC
The Village Emporium ­– Sparta, NC
Trader Joe's – Winston-Salem, NC
Un'Corked Mayberry – Mount Airy, NC
US Enhanced – Greensboro, NC
Vaughn-Guynn-McGrady Funeral Home – Hillsville, VA
Welcome Home Décor and Gifts – Mount Airy, NC
Winston Salem Dash – Winston-Salem, NC
Xtreme! Marketing – Pilot Mountain, NC