The Red Suit – How a Chaplain Helped His Patient See Care Like No Other
For many individuals, memorial services call for dark colors, with attendees often wearing black.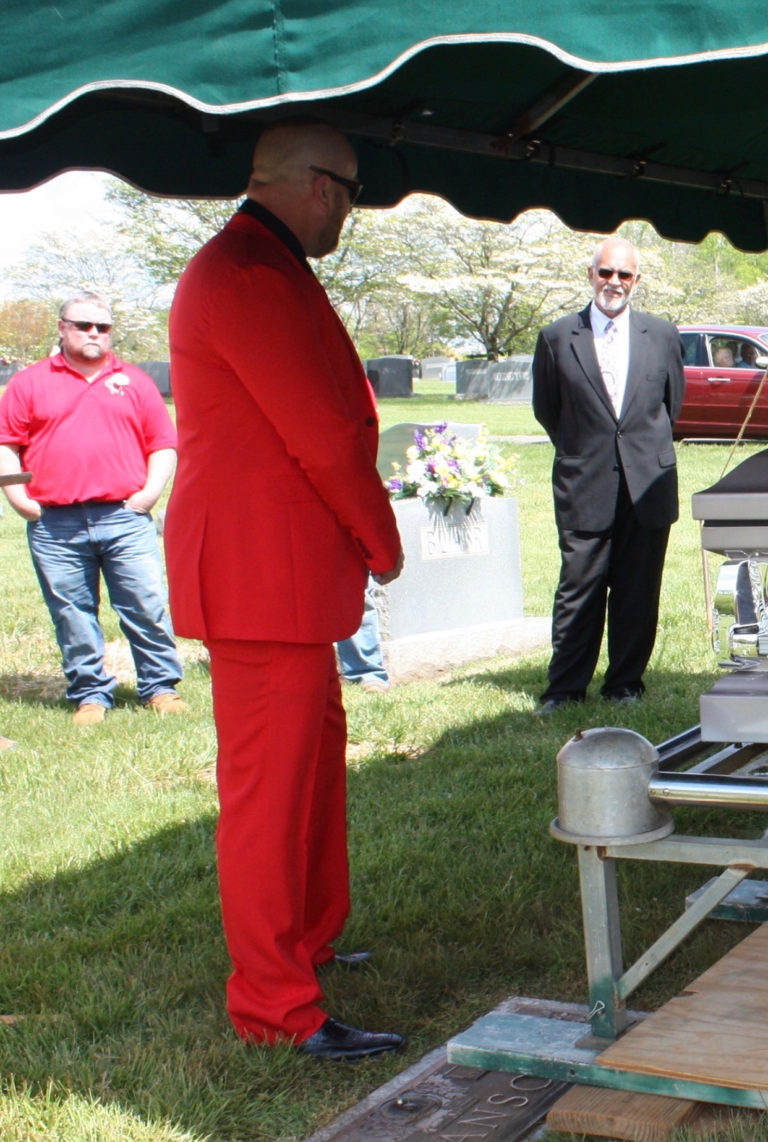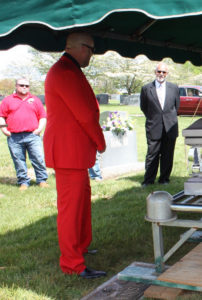 But at one particular gathering in April, the color of choice was red. Red flowers, red shirts worn by pallbearers, red words read from the Bible, and in the middle of all this, a chaplain sporting a bright red suit.
The chaplain, Jonathan Casstevens, had long planned to wear the suit in loving memory of the patient, Ada Branson. It was his way of honoring Ada, who suffered from a form of blindness that allowed her to see only one color, red.
Their friendship began in spring 2019. Jonathan had just started working at Mountain Valley Hospice & Palliative Care, while Ada had recently entered its hospice services. Upon her admission, Ada expressed she did not want a chaplain.
However, at the family's request, Jonathan stopped by one day to talk with Ada, not as a chaplain but as a supportive member of the hospice team. He and Ada immediately enjoyed each other's company. "She was laughing, I was laughing," he recalled. "We had a great time together."
At the end of their initial meeting, Jonathan told Ada to let her nurse know if she wanted him to return. Her response was straightforward: "Oh, you're coming back," she told him that day. "Can you come back tomorrow?"
Jonathan obliged Ada's request by visiting every two weeks. Serving as her chaplain, he provided spiritual support for any questions or concerns she had.
He learned that Ada had a type of blindness that allowed her see only the color red. To accommodate her disability, Jonathan ordered two bright red long-sleeved shirts. "Everybody on our team knew, if I was wearing red, I was going to see her," Jonathan said.
That was just one of the several ways in which Jonathan tried to go above and beyond, not only as a chaplain but as a friend. When Ada mentioned her love of fried apple pies, Jonathan responded that he would bring her one on his next visit. When that day arrived, he walked through her door and saw her sitting up in bed, smiling, eagerly waiting for him and the promised treat. They were joined by RN Case Manager Rhonda Felts, and the three of them took a welcome break to enjoy fried apple pies and Coca-Colas on a warm summer day – one of Jonathan's fondest memories of their time together.
As the seasons passed, Jonathan was able to minister to Ada during times good and bad, including deaths in her family. Those times strengthened their bond and friendship.
On Valentine's Day, Jonathan gave Ada a large bag of caramel candies marked with the familiar red Bulls-Eyes brand. During that visit, the 95-year-old confided in him a special request: she wanted him to speak at her memorial service. Jonathan agreed to it and added a promise that he would wear a red suit that day, as a tribute to her.
Soon Ada's condition declined, and their visits went from every two weeks to once a week to twice a week, until finally, every day.
"When I'd get ready to leave, I'd say to her, 'I'll see you soon,'" Jonathan said. "And every time, she'd say, 'When?'"
On April 18, Jonathan received the news he had been dreading. Ada, his beloved patient and friend, had passed. Because of the COVID-19 pandemic, Ada's memorial service had a limited gathering of her closest family. Among that select group of loved ones was Jonathan, standing by her graveside, wearing the red suit he promised her.
Returning home, Jonathan set aside the bright red suit and shirts he had ordered for her, in a special place in his closet in remembrance of her.
"Honestly, it's a one and done suit," Jonathan said. "That was her suit. People didn't think I would wear it. But I was so honored to be able to serve her as her chaplain, but more importantly as her friend. I did it to keep my promise to her, to show her how much I loved her, and to honor and cherish her memory."
He added, "If I served someone as a chaplain, and if they wanted me to wear a pink, polka-dotted suit, I would do it."
Indeed, Jonathan has taken creative approaches to connect with other patients. One such case involved a patient who refused to speak with a chaplain – but would talk to a clown. To humor her, Jonathan wore a red clown nose during their visits and sang lighthearted tunes with her, such as "She'll Be Coming 'Round the Mountain."
"My goal as a chaplain is to show the person I serve, and their family, the love I would want my mom and dad to experience if they were in our care," Jonathan concluded. "If you really love what you do and you love the people you serve, they become your family."
If you would like you or your loved one to experience the level of care expressed in this article, please call Mountain Valley Hospice& Palliative Care today at 1-888-789-2922 or visit www.mtnvalleyhospice.org.