Mountain Valley Hospice & Palliative Care is now hosting its annual Big Hospice Raffle! Proceeds from this event benefit our patients who are uninsured or under insured.
What Is It?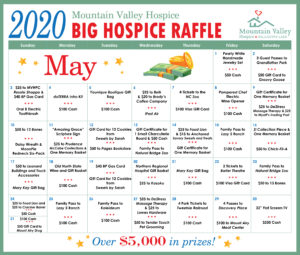 The Big Hospice Raffle happens every year. A donation of $10 assures that your name will be added to the drawing every day. Drawings will begin May 1 and continue each day throughout the month. There are 60 chances to win over $5,500 in cash and prizes — plus three surprise drawings!  Each day, the winning tickets will be placed back into the bin and remain eligible throughout the entire month of May. Prizes include gift cards, tickets to many local businesses, restaurants and entertainment venues, cash and much, much more!
How To Get Involved?
Visit an office to make your donation and receive your ticket, or complete the form below and donate. All staff and volunteers of Mountain Valley Hospice & Palliative Care also have tickets available. Questions can be directed to the Development Department at 336-789-2922.
How Will I Know if I Win a Prize?
Winners and their prizes will be announced daily at Facebook.com/mtnvalleyhospice. They will also be contacted by a member of the Development team.
Thank you for supporting Mountain Valley Hospice & Palliative Care!