Dear Patient/Families served by Mountain Valley Hospice & Palliative Care:
The situation involving COVID-19 continues to evolve, and so does our organization's response. We are closely following and adhering to the federal, state and the Centers for Disease Control and Prevention's (CDC) guidelines. We are committed to ensuring the safety of our patients/families, employees, volunteers and visitors.
Effective immediately, we have implemented a stringent screening process of our employees to ensure they are healthy and able to care for you. During this time, some of our services, supplies, and visits may be limited or vary as we prioritize where our resources are needed most. Staff will call each patient before each visit. Volunteers will be in contact by telephone only at this time.
It is important for you to contact your hospice care team if you, your caregiver, members of your household or visitors develop symptoms of fever, cough and shortness of breath or if you or anyone in your household has traveled in the past two weeks.
Below, you will find a brief video with recommendations for most hospice families. For more information on COVID-19, visit www.cdc.gov.
Thank you for entrusting us with the care of you/your loved ones. Feel free to contact our office with any further questions or concerns, at 1-888-789-2922.

Coronavirus: Keys to Care for Most Hospice Families video (c) 2020. Composing Life Out of Loss. All rights reserved.
---
Accepting Patients & Taking Extra Precautions for Patient Safety
We are here to work with you to ensure you can safely receive hospice services during the COVID- 19 pandemic.
Our entire staff is working under the direction of our Environment of Care Team to ensure we follow CDC, CMS, NC DHHS, and VA DOH guidelines, while also fulfilling our mission of providing care to those with serious illness and allowing family members and loved ones to be present as often as is safely possible.
In addition to in person visits, we now offer video or telephone visits, also known as "telehealth" visits. During the COVID-19 pandemic, insurance companies, including Medicare and Medicaid, are covering these "telehealth" visits which help prevent further spread of infection.


---
Care Center Visitation
At both the Woltz Hospice Home in Dobson and the SECU Hospice Care Center in Yadkinville, we are
following strict visitor policies to protect the patients, their families, and our staff.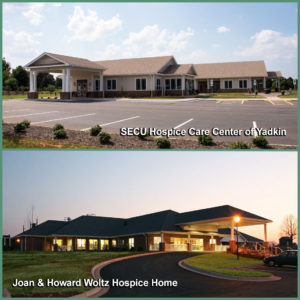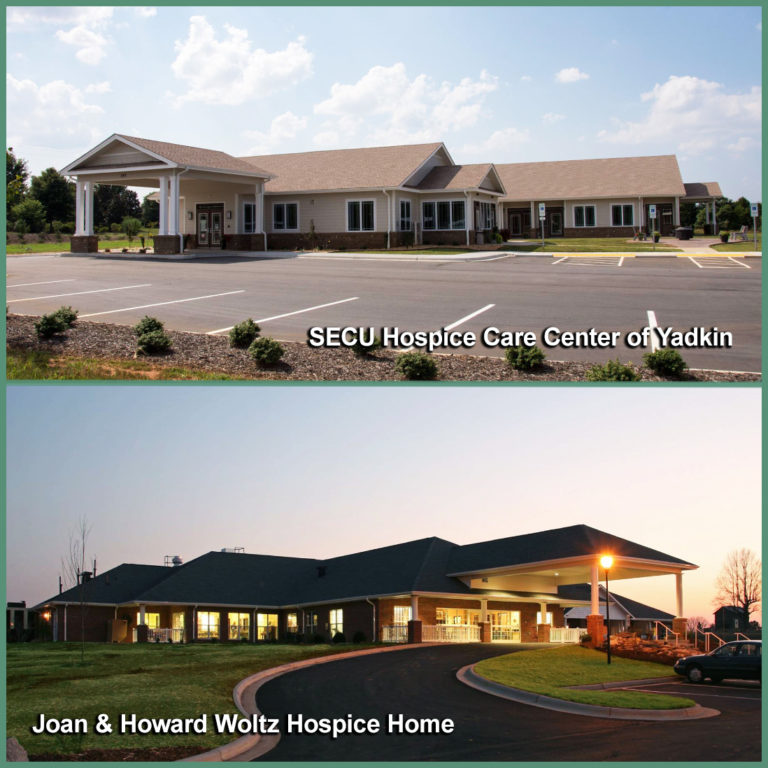 • Visiting Hours: 11am to 8pm daily.
• All potential visitors will be screened using CDC and NC DHHS and VA DOH guidelines to assess
the likelihood a visitor may have been exposed to, or positive for, COVID-19. This includes
screening questions and temperature checks.
• A face covering must be worn for the duration of the visit.
• Every room has an outside patio and visitors will use the room's exterior patio door to enter and exit
patient rooms.
• No more than two people may be in the room per patient at a time. Different people may visit
during the course of the day.
• One visitor may stay with the patient 24/7-once this visitor is screened and with the patient, they
must stay in the patient's room.
• Visitors must remain in the patient's room with the door closed at all times.
• Common areas are closed and cannot be used by visitors.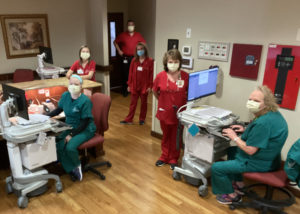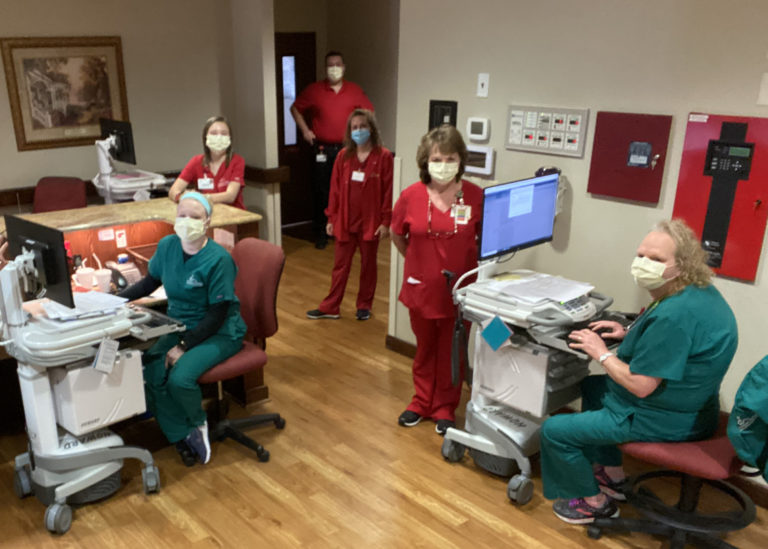 • Each visitor must screen for re-entry upon each visit.
• End-of-life visitation will be considered on a case-by-case basis to extend outside the current
visiting hours, with consideration for children as well.
For the health and safety of all our visitors, families, and staff we must adhere to these strict guidelines. Failure to comply may result in being asked to leave the facility and/or forfeit of visitation privileges.
Our Environment of Care Team is continually monitoring the COVID-19 situation and meets daily to assess and respond, as necessary.
We are doing everything we can to protect our patients, families and employees during these unprecedented times.
---
Can You Sew? Help By Making Facemasks!
Due to a shortage of facemasks, our communities have limited personal protective equipment. Hence, one important way to support the health of our community is to provide homemade facemasks to our staff as they serve patients with serious illness. We invite you to join us in creating your own DIY masks and donating to Mountain Valley Hospice & Palliative Care.
For instructions, please view this pdf guide.
---
For Updated Information on COVID-19
For the most current information, visit the Centers for Disease Control & Prevention (CDC) at www.cdc.gov/coronavirus/2019-ncov/index.html.
Families and individuals can also call North Carolina's and Virginia's 2-1-1 numbers to obtain free, confidential information on health resources and human services within their community.