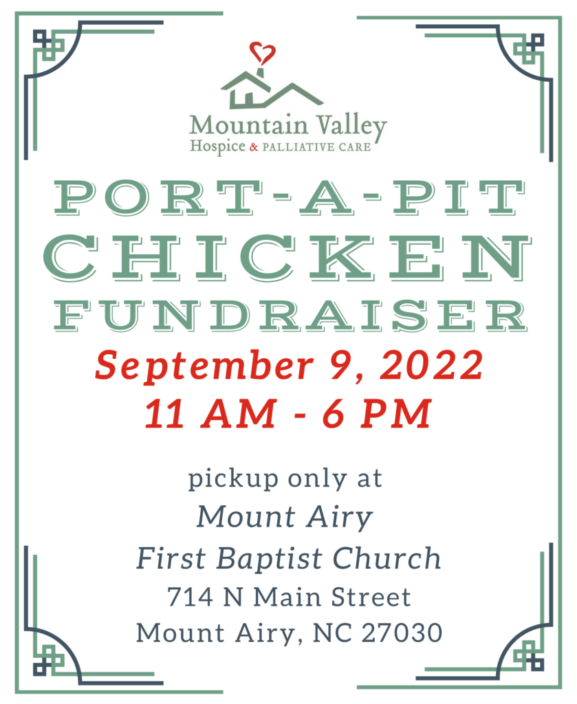 What Is It?
Get a delicious meal that includes 1/2 chicken, baked beans, slaw, roll and a dessert! Plates are only $10 each. 100% of event proceeds are directed to hospice care and support programs for our community.
On Friday, September 9th, you can pick up your plates via a drive-thru set up at Mount Airy First Baptist Church from 11:00 a.m. – 6:00 p.m. The church is located at 714 N Main Street, Mount Airy, NC 27030.
We do not offer delivery to individual residences; however, delivery options are available to organizations purchasing 10 or more plates. If you would like to take advantage of this opportunity to treat your staff or coworkers to a delicious meal, please submit an order form here, or contact Audrey at 336-789-2922 or adiener@mtnvalleyhospice.org to arrange for a delivery.
How To Get Involved
Pre-order your plates today by filling out the form below! Your information will be saved and used to fulfill your order. On September 9th, simply provide your name and phone number to claim your plates.
If you would like to volunteer to help work the event (and earn a free plate!) please use this link to select a volunteer slot.
Also, help us spread the word by telling your friends, sharing the link to this webpage, or liking/sharing our social media posts about the fundraiser.
Pre-orders for this event have closed, but plates will be available at the door from 11 am to 6 pm, or until sold out. 
We look forward to seeing you!